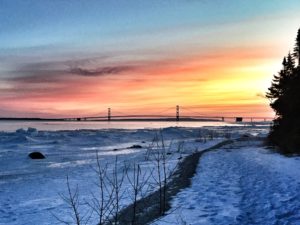 Weather-
This morning dawned quite pleasant with almost no wind and a temperature of -4 C. By 10:30 the winds began to pick up but the temperature was nearly above freezing. Out on the straits almost no wave action was to be seen nor heat shimmer which was good for detecting distant birds. By the afternoon the winds had kicked up to 12-19 kph out of the NE so it almost felt as cold as in the morning even though it was now just above freezing. High cirrus clouds came and went throughout the day. The barometer dropped slightly possible signaling the approaching weather forecasted for tomorrow. Visibility was excellent at over 10 miles.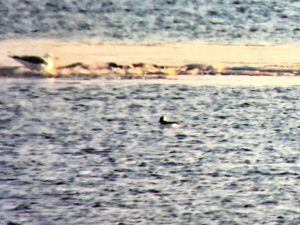 Waterbird Notes-
In general all birds were on the move today. Over 70 Canada Geese were spotted flying in large flocks, primarily out near St. Helena Island. One Trumpeter Swan flew directly over the gazebo at 9:30AM. A large flock of Mallard moved through with 35 individuals and 2 American Black Duck mixed in with them. The first Redhead of the season were noted directly out in the middle of the straits off McGulpin Point flying east. It was exciting to detect the first White-winged Scoter of the season flying ahead of a freighter on the far northern side of the straits westbound. I learned from that experience to scan in front of the freighter and along its wake as this flushes birds that I may have missed. Ed Pike spied a lone Long- tailed Duck crashing down in the straits out near St. Helena Island. A lone Bufflehead was detected before sunrise in close to McGulpin Point, later to be joined by another. 10 Common Goldeneye were mixed in with 15 Common Merganser at about 10:30. Red- breasted Merganser were out in numbers, 43 to be exact. Both Common and Red- breasted Merganser were again performing their communal displays. I personally think the Red- breasted display is more complex than what I am seeing from the Common. Currently the 7:30-10:30AM is the peak of the waterbird movements. From 12:30 to 2:00PM I didn't see any other birds moving nor did the resting birds outnumber the high counts from the morning.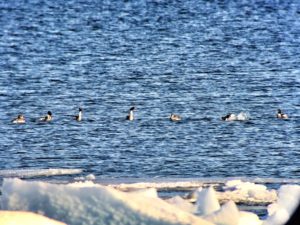 Non-waterbird Notes-
The resident adult Bald Eagle was detected both fishing out near St. Helena Island and loafing on the rafts of ice directly in front of McGulpin Point. This resident Bald Eagle is a "bruiser" as I saw it either escorting another adult out of its territory or it was mating behavior. I would lean towards the former though as it didn't look too friendly, with the smaller bird rolling over on its back and flashing its talons up. The resident was not to be deterred though until this interloper left the area, which it did in a hurry. I am curious to know if this is the same bird seen last week at the Hawk Count site that actually was pulling tail feathers off of another bird that had strayed into its territory. The size disparity between the two was obvious even with the naked eye. Perhaps to occupy a territory as rich in habitat as the straits an eagle has to be substantial.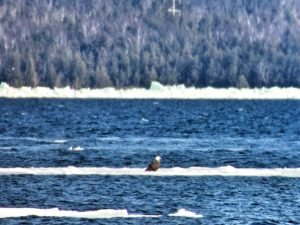 The forest birds were vocal today: Downy Woodpecker ( drumming), Pileated Woodpecker ( wild man call), Golden- crowned Kinglet ( a new liquid call I have not heard ), American Robin ( scolding something), Northern Cardinal, Common Redpoll and Pine Siskin.
As I approached the gazebo I had a hunch the feeders Steve had installed had seen some action after my departure yesterday. Sure enough a herd of Black- capped Chickadees arrived shortly after determining it was safe to approach with the waterbird counter in position. Of course one chickadee is attempting to lay claim to the feeders so we will have to see how that pans out. Thanks to the feeders I got my first Red- breasted Nuthatch for Michigan! He or she is so cute, flitting through the underside of the roof of the gazebo and stopping to look at me to make sure I am on task and not a threat. I don't know why but the scolding, raspy call they give when not pleased makes me happy. This is a result of the "chief" chickadee trying to displace just about all visitors other than those he has approved.
Freighters –
The straits were busy with freighter traffic this morning. At 7:30 the Alpena was westbound to Greenbay, WI with cement. The Roger Blough was east bound at 7:45 en route to 2 Harbors to load taconite. The Mesabi Miner ( also en route to load taconite) passed en route to Silver Bay and it was this boats wake that flushed the White- winged Scoter. The Niagara was headed east again at 12:50 possibly with more salt.
Visitors-
Ed Pike and Sue Stewart visited the count today. Ed located the first Long-tailed Duck of the season.
Total observer hours – 5.5
Next Day Forecast-
Rain, mainly before 1pm. High near 41. Southeast wind 5 to 10 mph becoming southwest in the afternoon. Chance of precipitation is 100%. New precipitation amounts between a quarter and half of an inch possible.
Canada Goose – 70
Trumpeter Swan – 1
American Black Duck – 4
Mallard – 37
Redhead – 7
White- winged Scoter – 4
Long- tailed Duck – 1
Bufflehead – 2
Common Goldeneye – 10
Common Merganser – 27
Red- breasted Merganser – 43
duck sp. – 89
Herring Gull – 9
gull sp. – 100
Bald Eagle – 2 Adult
Mourning Dove – 1
Downy Woodpecker – 1
Pileated Woodpecker – 1
American Crow – 18
Common Raven – 1
Black- capped Chickadee – 6
Red- breasted Nuthatch – 1
Golden- crowned Kinglet – 2
American Robin – 1
Northern Cardinal – 1
Red- winged Blackbird – 1
Common Redpoll – 23
Pine Siskin – 20
I have also included several pie charts that show the first weeks numbers and how they break down by species. Figure 1 is a representation of all the focus species. Figure 2 accounts for what makes up the "other" category. Figure 3 accounts for all species detected and 4 accounts for the "other" category.