I'm Nancy Drilling, and I am the lead bander. I'm originally from Iowa and now live in the Black Hills of western South Dakota. Since getting a Master's degree in Biology at Illinois State University, I've worked on a variety of bird research and survey projects around the U.S., including research on waterfowl, shorebirds, songbirds, and colonial waterbirds. I also did a stint with the Peace Corps in Thailand.
For the past eight years, I've operated three fall migration owl-banding stations in the western Dakotas – in Black Hills National Forest, Custer National Forest in northwestern South Dakota, and Theodore National Park in North Dakota. We usually catch 200-400 Northern Saw-whet Owls there as well as some Long-eared Owls and Eastern Screech-owls. 
You can read more about the project at https://birdconservancy.org/saw_whets2018/ Saw-whets in the Great Plains are just as cool (and cute) as Michigan saw-whets! I've always wanted to experience a migration season on the Great Lakes, so I'm very excited to be here at Mackinac Straits for the fall migration.
My name is Kandace Glanville, and I'm the assistant owl bander this fall. I'm from Columbus, Ohio, and I graduated from Ohio State University in May 2019 with my Bachelor's in Wildlife Science. My first time birding was about 3-4 years ago, during my second year of undergrad, after taking a birding course at Stone Laboratory on Lake Erie.
During the spring of 2019, I started bird banding during an apprenticeship with Black Swamp Bird Observatory in NW Ohio. I've been roaming around working field tech jobs in avian ecology since graduation. In the last year and a half or so, I've lived in Ohio, Wisconsin, New Jersey, Brazil, Texas, New Mexico, and now Michigan!
I've done some banding jobs, nest searching, and radio-telemetry, but all mostly with songbirds (and shorebirds in Brazil!). I'm excited to learn all that I can about owls and owl banding, as I've never worked with owls before. It has enough similarities to songbird banding that I'm plenty prepared for the work. Still, some differences will give me a new experience and provide a different fieldwork opportunity to prepare me for a career in avian ecology.
After a couple more years of being a field tech nomad and learning as much I can and seeing as much of the world as I can, I plan to pursue a Master's degree in the field of avian ecology. I'm not exactly sure what I want to do as a full-time career one day, but I know that I want to spend my time doing all I can to conserve our natural world.
My name is Benjamin Stalheim. I am working as the 2020 fall waterbird counter, and I am so excited to share with you all that passes through the Mackinac Straits this season. A little about myself; I am a wildlife and evolutionary biologist and have studied the ecology of birds across the world.
Although this is my first time stepping foot in Michigan's beautiful state, I have loved my time here thus far. I moved out here from Washington State, where I was studying seabirds, and am thrilled to point my spotting scope to the water here on the great lakes.
My name is Calvin Brennan, and I am this Fall's hawk counter at Point LaBarbe. I currently live in Grayling, MI but spend much of my time in spring and Fall following the bird migration. I have counted hawks at several locations, including Whitefish Point, Brockway Mountain, Detroit River (all in Michigan), and Kiptopeke in Virginia.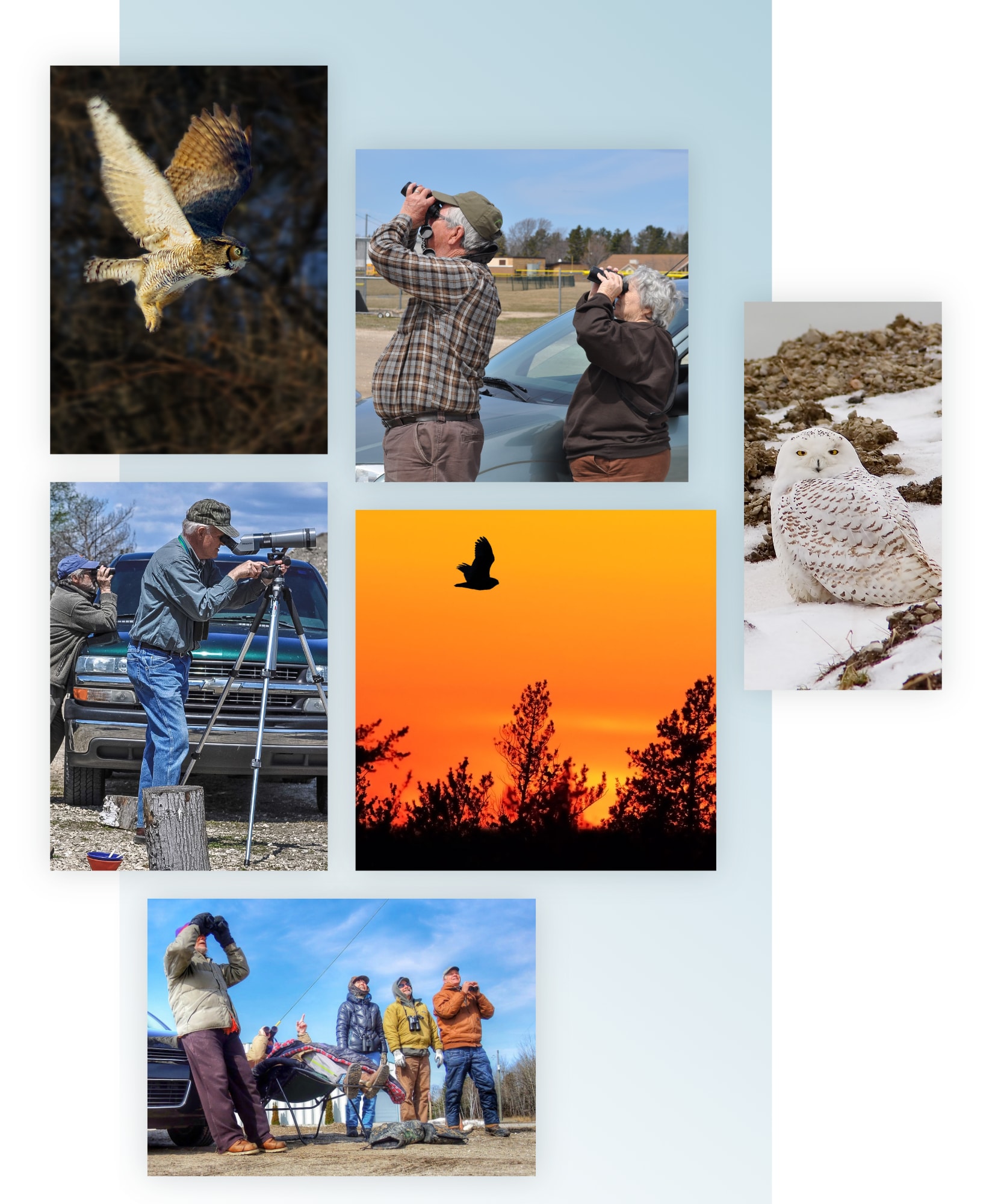 Catching Up with Previous MSRW Contractors
Nick Alioto
(Owls Spring & Fall, 2017 / Owls Spring, 2019 / Hawk Banding Spring, 2020). Since then, I have overseen bird banding at Hilliardton Marsh Research and Education Center in northeastern Ontario, radio-tagged Whippoorwills for the University of Illinois, and banded diurnal raptors Intermountain Bird Observatory in Idaho for two years. As of November 2020, I plan to pursue a graduate degree with Michigan State University studying Red-tailed Hawks.
Selena Creed
(Owls Fall, 2014, 2015). Since then, I work to safeguard birds and airplane travelers at a major airport. I have captured and relocated numerous raptors, including Snowy Owls.
Aspen Ellis
(Waterbirds Fall, 2017). Since working with MSRW, I've led crews studying beach-nesting birds for Conserve Wildlife Foundation New Jersey, contributed to research and rehabilitation efforts for endangered shearwater populations on Kauai, worked with Alaska Maritime National Wildlife Refuge, and monitored seabird colonies off the coast of California with the Common Murre Restoration Project. I'm now applying to PhD programs to study the effects of climate change on seabird populations.
Kevin Georg
(Hawks Spring, 2014, 2015, 2016, 2018, 2019, 2020). Since then, I have birded in Nicaragua and worked as Hawk Counter for Detroit Hawk Watch in the fall of 2019 and 2020.
Maycee Hash
(Owls Fall, 2018, 2019). After garnering tremendous experience banding owls with MSRW, I was granted a federal bird banding permit, and in 2020 launched a saw-whet owl banding station in northwest California. Migratory owl movement trends in the western US are poorly understood, so I'm very excited to uncover the secrets of these cryptic wee beasties.
Josh Jaeger
(Waterbirds Spring, 2017). Since then, I began graduate school at the University of Houston-Clear Lake. I worked on the American Eel Project in March 2018 and as an avian point count technician for WEST Inc. for two summers. As of November 2020, I head to Idaho for a few years.
Laura Makielski
(Owls Spring, 2015). After leaving, I worked for Arctic National Wildlife Refuge, organizing and digitizing old data. In June 2018 I conducted a shorebird nesting study in Barrow, Alaska for the U.S. Fish and Wildlife Service.
Jason Newton
(Waterbirds Spring, Fall 2016 / Hawks Spring, 2017).
Arthur Sanchez
(Owls Spring, 2017). Since then, I worked for spring 2018 and 2019 at the Black Swamp Bird Observatory in Ohio, one of the highest volume stations in the U.S.
Kim Strunk (née Edgington)
(Owls Spring, Fall 2016). In 2017, I married Olympic National Park ranger Michael Strunk and moved near Seattle, where he attends computer programming school. I worked with Amazon, hoping to go back to school, obtain a bird banding permit, and research Saw-whet Owls on the Olympic Peninsula as a Master's project.
Loren Taylor
(Owls Spring, 2015). Since May 2015, I have worked as a Nongame Avian Biologist for the Wildlife Diversity Program of the Kentucky Department of Fish and Wildlife Resources. Here I oversee the monitoring of Peregrine Falcons, American Kestrels, Ospreys, Loggerhead Shrikes, Golden-winged Warblers, and Prothonotary Warblers.
Frances Whalen
(Raptor Naturalist Spring, 2017 / Owls Fall, 2017). Since working for MSRW I was a raptor trapping intern at Cedar Grove Ornithological Research Station in Wisconsin, a Mississippi kite technician (monitoring nest of and trapping Mississippi kites), a naturalist at Hawk Ridge, Minnesota, and am currently a fisheries technician for Southern Illinois University.
Emily Wilmoth
(Owls Spring, 2016). Since then, I graduated from the University of Minnesota Duluth in May 2018 with a Master's degree in Environmental Education.
Jason Bojczyk
(Hawks Fall, 2018, 2019)
Chad Cremer
(Owls Spring, 2019)
Conner Vara
(Owls Spring, 2018)
Kyle Wiktor
(Waterbirds Fall, 2018)
Matthew Hanneman
(Owls Spring, 2018)
Adam (Bradley) Richardson
(Waterbirds Spring, 2018). Since then, I published my first hawk migration study from Bridger Mountains, Montana, and returned there for another count; surveyed woodpeckers near Atlanta, Idaho; and did breeding bird point count surveys across Montana, Idaho, and Utah. In 2020, I launched a new spring hawk count at Camp Baker, Montana, in cooperation with Upper Missouri Breaks Audubon Society in Great Falls, which accepts this work's donations.
Jonah Levy
(Waterbirds Spring, 2019). Since then, I have done two seasons of point counts and remote montane atlasing for the Maine Breeding Bird Atlas (Summer 2019, 2020), a season of data analysis for Maine Audubon (Winter, 2019-20), and a season in Northern California monitoring mule deer browse (Spring, 2020). I started my Ph.D. at Tufts University this Fall (2020) and will be studying the impacts of global change on bird distributions and community structure at multiple spatial scales; and will be back in Northern Maine for dissertation research a third season of atlasing this coming summer.