Weather –
Today I was shocked to see the straits choked with ice. Visibility was good with light winds.
Going forward all weather data will be collected off of the Mackinac Bridge weather station. It should be noted this is the closest weather station to my count site, however it won't accurately reflect the temperature or wind at McGulpin Point. I looked up the weather station and realized it is east facing, over a large parking lot and devoid of vegetation. When I am posting temps above freezing from this weather station it is much colder at McGulpin. The reason for this is I watched the portable weather station I use go from above freezing to below, to back up to below in a matter of an hour. In reality it steadily was getting colder. Too, the wind isn't reliable on it. Today the unit wouldn't even move in anything less than 8mph winds even though it was reading on the thermometer that the temp was above 40F. This would make it difficult to select the appropriate windspeed on our tablet. For any measure of consistency it is better going forward to get the weather somewhere ( since I don't have the ability to measure it accurately ). I wanted anyone reading my prior posts about the days weather to be aware that there is a large discrepancy between what I am getting in the shade and the parking lot over 2 miles away that is east facing.
Waterbird Notes –
The waterbirds really wanted to use the area off of McGulpin Point to perform their breeding displays and to fish. Unfortunately the point was no longer ice free and most of the straits were choked with ice. Most of the days waterbirds were Common and Red-breasted Merganser with a few Common Goldeneye and Bufflehead mixed in. These birds tried to make the small bits of open water work, but quickly moved east or returned west to more open waters. By 2:30PM the ice had shifted yet again and the birds returned in large flocks. 191 Red-breasted Merganser returned, but this time they were focused on fishing, not courtship. It was interesting to watch them fish cooperatively which I never realized they did. I find all the social behaviors of waterbirds during spring very interesting. The new waterbird I had yet to detect that arrived today was a pair of Hooded Mergansers. Looking at their plumage through a spotting scope never gets old. The pair was very focused on preening and I was impressed with the finish product when they tucked their heads behind their wings and drifted for a bit while resting.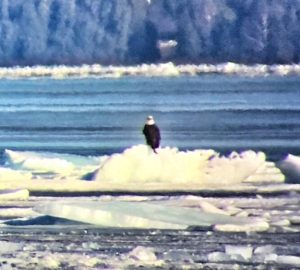 Non- waterbird Notes –
One of the resident adult Bald Eagles was back briefly on the ice. Later in the day two immatures where spotted, one circling the gazebo and another soaring high on a thermal. A female Northern Harrier flew across the straits low over all of the ice flow hunting. She came extremely close to the gazebo so I got an excellent look at her. She then proceeded east along the shoreline and out of view. That really perked me up! In addition to the raptor excitement I had auditory detections of my first Killdeer of the season, White- breasted Nuthatch and Eastern Bluebird respectively. Busy day for the counter even if not many waterfowl where in the straits early.
Freighters –
The Robert S Pierson became stuck in the shipping channel on the ice jams. They were heading to Sturgeon Bay to load taconite, but ended up spending 45 minutes or so getting off the ice they had been stuck on. I learned later these freighters are more likely to become stuck when they are empty as this ship was. The Spartan barge pushing a larger barge passed by to pick up a load of CaCl2 at 13:30.
Visitors –
One visitor was out walking her dog. Other than that a quiet, but special day.
Total observer hours – 8.0
Next days forecast –
Cloudy, then gradually becoming mostly sunny, with a high near 36. Northwest wind 5 to 10 mph.
Canada Goose – 39
Bufflehead – 6
Common Goldeneye – 3
Hooded Merganser – 2
Common Merganser – 24
Red- breasted Merganser – 194
merganser sp. – 11
duck sp. – 120
Herring Gull – 7
gull sp. – 150
Northern Harrier – 1 AF
Bald Eagle – 1 Adult 2 Immature
Killdeer – 1
Mourning Dove – 1
Pileated Woodpecker – 1
Blue Jay – 1
American Crow – 2
Common Raven – 5
Red- breasted Nuthatch – 2
White- breasted Nuthatch – 1
Golden- crowned Kinglet – 2
Eastern Bluebird – 3
Northern Cardinal – 1
Red-winged Blackbird – 2
Common Redpoll – 2
Pine Siskin – 2
Also, the plan to embed Dunkadoo on the blog didn't quite function properly. I am hoping it can be worked out so that there will be a live map posted with the migration tally coming through in real time. That being said I did get the 2018 MSRW Waterbirds Spring page up. Just click the link here. You can start following along in real time as I am using my phone as a hotspot. This is actually why Dunkadoo ( the application I use on the tablet to record birds with ) was developed. So we may engage with people in real time which hammers home the spectacle of migration. Many friends back home could see things really picking up. If anything I hope the effort puts what the journey is like for many of these birds into perspective. I also spiffed out our public page which has additional totals and the daily tally much like the HMANA website. Check that out here.