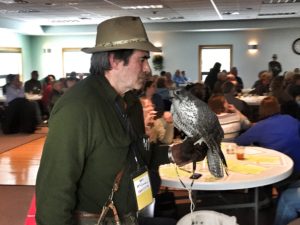 Weather –
30kph winds with temps in the -3C range were on the menu today. Waves of nearly 4 ft were seen regularly out in the shipping channel.
Waterbird Notes –
The RBME led todays flight again. The preferred flight path is from the west to the east directly in front of McGulpin Point. Only a few COGO and COME were detected.
Non- waterbird Notes –
Bald eagles were active as has been the norm at dawn. TUVU were out in force again with 22 individuals counted patrolling the shoreline from east to west only to return minutes later heading back east.
Wildlife-
None
Freighters-
None
Visitors –
Leonard Graf and Darrell Lawson joined me today as interpreters for McGulpin Point during the MSRW Raptor Fest. We were also joined by Josh Haas of Hawks on the Wing. In addition to Josh's many contributions to the birding community, he has made a push to provide a scholarship for two young people to join the MSRW Raptor Fest annually. It is special to see young birders at the event experiencing what Mackinaw Straits has to offer with its diversity of birds that use the area year round and during migration. I only got to experience a bit of the festival in the evenings and I was taken back by how much the festival has to offer. I can only imagine how much it has inspired these young people and the cumulative impact of getting the next generation of birders engaged with birding which will provide a lifetime of learning.
With the festival going on the McGulpin Point Waterbird Count easily saw more visitors this weekend than it will for the rest of the count season.
Total observer hours – 7.5
Next days forecast –
Considerable cloudiness in the morning decreasing later in the day. High of 30F with west winds 5 – 10mph.
Todays tally is posted on eBird here.