Greetings once again fellow supporters and followers of MSRW. Since my last blog post there has been a lot going in terms of bird movement, birds being captured and spring migration in general. Where to begin… Well since I'm the raptor trapper for the spring, I guess it makes sense to focus on the trapping, and this just also happens to be my favorite!
   On our initial day as I mentioned before we were not fully operational and were still figuring things out in terms of the actual set-up itself. Now we are fully set-up and have had some great days trapping despite it being quite early in the spring and migration is yet to reach peak. On April 1st we had anticipated it to be a slow day due to weather and wind and overall, it was just not great. Despite the poor weather we did manage to capture one bird on the day this being a Red-shouldered hawk. Now this is exciting for two reasons; firstly, they are primarily reptile and rodent predators and are not usually as interested in what we had to offer, European starlings and Rock dove "pigeon." But sometimes these birds will take a chance on different prey items if the opportunity presents itself. Little do they know that the lure birds are protected by leather vests.  It should be noted that only invasive species in North America are used to lure raptors. The second reason I wanted to mention why this was also super exciting is because this was the first Red-shouldered captured for MSRW! It was great to be part of history no matter how small the feat. Note the lighter color in the outer primaries. This appears as a translucent comma when you see Red-shouldered hawks soar overhead.  All ages and sexes show this pattern.  The red on the 'shoulder' of the bird is not always visible.
   We then trapped again on the 2nd of April and managed to capture 6 birds, 2 Sharp-shinned hawks and 4 Red-tailed hawks and it was a great day all around. That being said in the game of trapping it is always a good day when you at least catch one bird and do not get skunked. Coming into the 3rd we expected a good day as the winds seemed favorable and our optimism was high. To start we captured an adult female Rough-legged hawk early in the morning. Once again, an uncommon catch as they prefer a more rodent based diet. These birds are also stunning and each one shows so much individual variation they are truly breathtaking and by far my favorite hawk species. It is also always a treat to get to see one in hand! After that the day was slow and I assumed all our good karma had been used up on that early "gourmet" bird. Then in the late afternoon things picked up again and we captured 8 adult red-tails in the span of a few hours.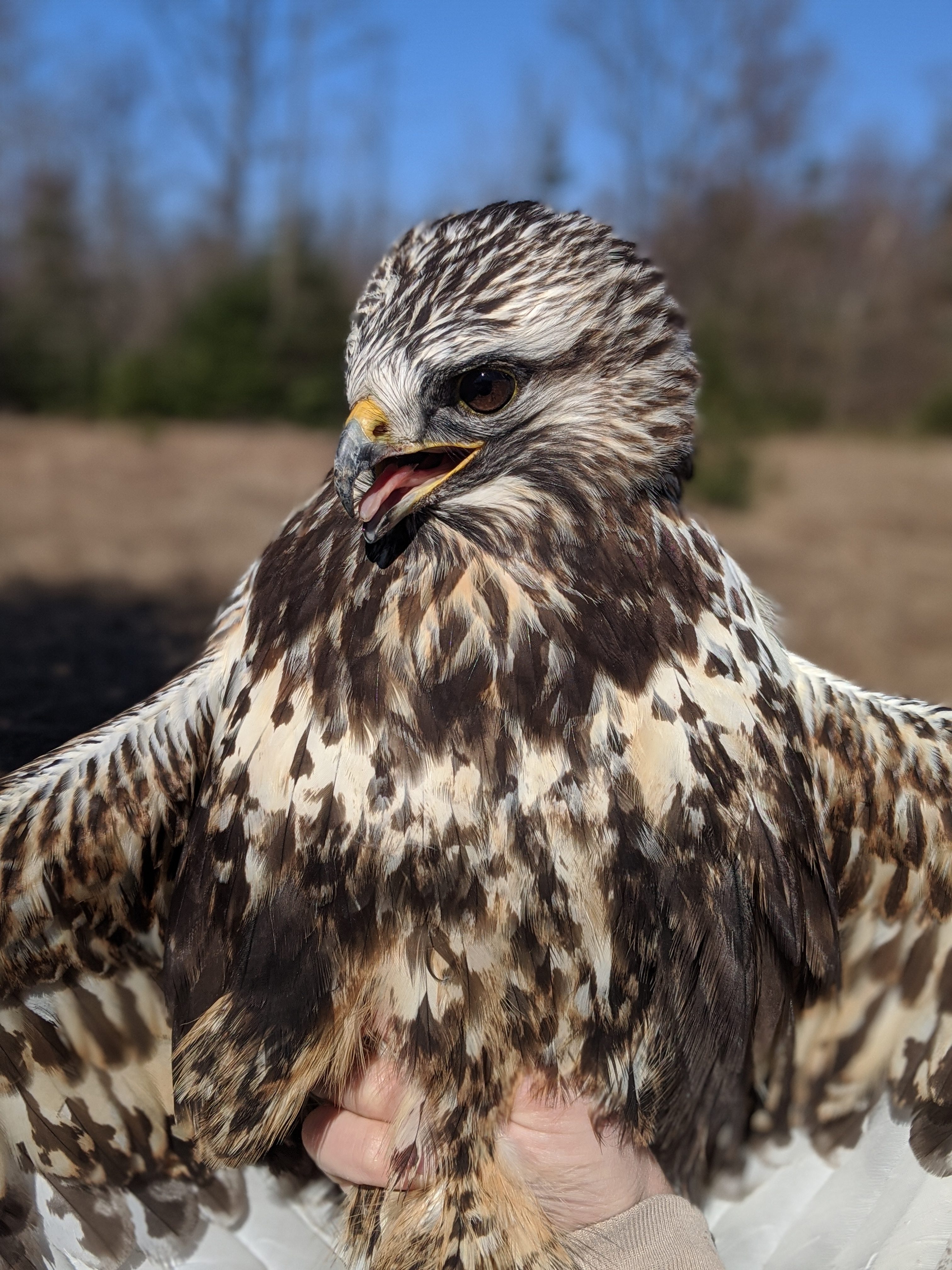 We will not be trapping on April 4th due to the rainy weather as that is the forecast. However, we hope to be back out there on the 5th and are hoping that the only rain we get will be in the form of raptors falling from the sky and subsequently being captured! Until Next time as always stay classy.
Nick Alioto
Spring 2020 Raptor Trapping Totals:
5 SSHA (Sharp-shinned Hawk)
15 RTHA (Red-Tailed Hawk)
1 RSHA (Red-shouldered Hawk)
1 RLHA (Rough-Legged Hawk)
Total Birds: 22