Raptors: Raptors were quite high to start the day and remained so throughout the rest of the day. It was another nice day though, with 100 raptors recorded. Today was dominated by three species: Turkey Vulture (21), Sharp-shinned Hawk (22), and Broad-winged Hawk (40).
Non-raptors: The focus was on the Monarchs lifting off today, so non-raptors didn't receive too much attention, apart from what was flying over the hawk watch site. Despite this, a lot of passerines were clearly streaming overhead and working the woods throughout the tip. The best of the bunch was a Carolina Wren. The wren started off singing in the southeast corner of the tip before (surprisingly) being recorded singing and subsequently flying around the cedars at the hawk count site. There's definitely some kind of dispersal of Carolina Wrens in the last 10 days of August in Michigan, as I've had 2 or 3 together at Whitefish Point several years ago, the one at Point LaBarbe today, and 2 were found at Tawas Point last year. All are very rare at each of these sites, and all were seen the last 10 days of August. The next best bird was a Blue-gray Gnatcatcher Steve had at the southeast corner of the tip. Eight Common Loons and 3 Least Sandpipers were the nicest waterbirds of the day. Two Philadelphia Vireos were the first detected this season, as was a lone Brown Thrasher. At least 11 warbler species were present, but surely more diversity and numbers were present. Three Yellow Warblers is a decent total, as it's starting to get late for them. The best of the birds streaming overhead, mostly to the east, involved: Bobolink-1, Red-winged Blackbird-194, Purple Finch-51, Pine Siskin-22, and American Goldfinch-47.
Monarchs: The morning started off with very light winds and virtually all of the roosting Monarchs took off south during this time (between 8 and 9). It was a very nice show to see, and they departed in small groups rather than all at once. The best departure was when around 250 Monarchs all left the cedars together.
Compared to yesterday, the Monarch show was much slower between 10 and 2, but things really picked up between 2 and 4, with 3-4 being the best hour yet again, this time with over 1,000 Monarchs streaming in that hour alone! Wind direction greatly impacts them, as today they were all streaming to the west, and we had east to east-northeast winds for most of the 2nd half of the day. Subsequent searches by others until at least 6:00 for them starting roost were unsuccessful. Hourly totals are broken down below with a daily total of 1,786 Monarchs!!!
10-11: 96 Monarchs
11-12: 49 Monarchs
12-1: 42 Monarchs
1-2: 72 Monarchs
2-3: 429 Monarchs
3-4: 1,021 Monarchs
4-5: 77 Monarchs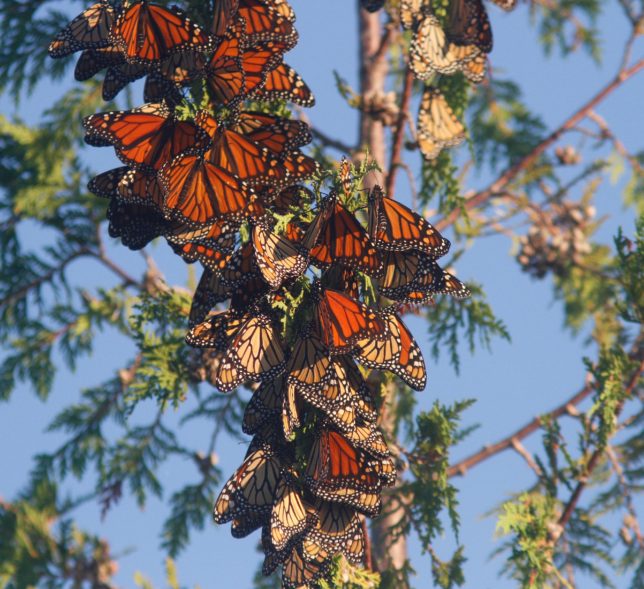 Best of the next 5 days: It looks like we're in for a slower period for raptors. Only Friday doesn't have a chance of rain over the next 5 days and most/all days have no northerly component to the wind. Monday's forecast is frequently changing, sometimes being forecast with light northerly winds and no rain during the afternoon. If that's the case, than Monday will be the best day.