Raptors: The weather didn't exactly cooperate for the first day of the season, with frequent rain throughout most of the day and southerly winds. Nonetheless, 6 raptor species were recorded, but only one bird was determined to be a migrant-a lone Sharp-shinned Hawk that flew south across the straits. All of the expected falcons were recorded and were the highlights within the raptor department. A Merlin made several passes over the count site throughout the day. During one of these passes, it headed out over the lake and tried unsuccessfully to snag up a Yellow-rumped Warbler. Peregrine Falcons are always an exciting bird to see and a lone bird was on a smaller island, west of Green Island, for most of the afternoon.
Non-raptors: It was a fairly good day for non-raptors, as many warblers were around the point, especially on the eastern half. Fourteen species were recorded, with American Redstart, Nashville, Cape May, and Yellow-rumped most numerous and nearly 100 individual warblers for the day. As nice as the warblers were, the best bird of the day was not a warbler but an Olive-sided Flycatcher. A lone bird was briefly teed up on a spruce early in the morning. American Goldfinches are already starting to move as several moderate flocks involving 68 birds were recorded. Black-capped Chickadees were also around in above daily dose numbers, with at least 18 individuals. Other highlights for the day included 5 Gadwall, 1 Common Goldeneye, 3 Pied-billed Grebes, 6 Red-eyed Vireos, and a Rose-breasted Grosbeak.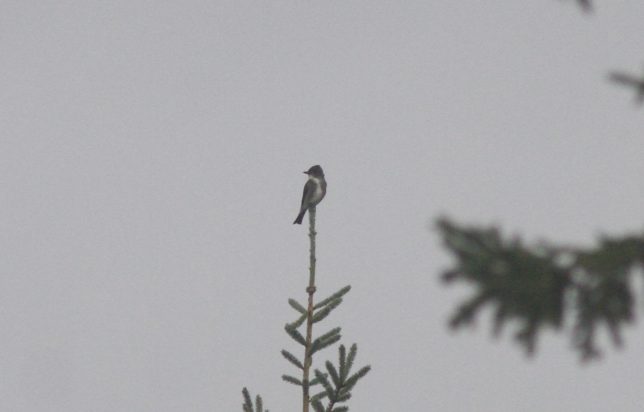 Monarchs: Considering the weather, it was an excellent day for monarchs. Many flew across the straits into a southerly headwind while it was still raining. During the count 103 were recorded with an additional 53+ recorded before and after the count. At least 30 were "roosting" together in deciduous trees on the west side of the point during the late afternoon.
Best of the next 5 days: Thursday (the 30th) is currently looking to be the best day for raptor migration in the near future. This may produce the first 50+ raptor day of the season. After that Wednesday, the 29th, looks like it may be the next best day, but still has conflicting forecasts.