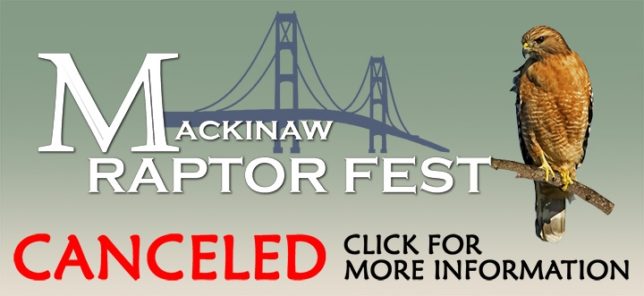 With heavy hearts, we have canceled this year's Mackinaw Raptor Fest on April 3 to 5. With the growing risk of contracting Coronavirus 2019 (COVID-19) and the closure of Mackinaw City School, there is no choice.
While you are likely as disappointed as us, you'll agree that it's vital to keep everyone safe and healthy. That means being sure that none of us unknowingly gets exposed to COVID-19 and carries it home to families, friends, and communities.
Next week, all paid registrants will get a full refund of the registration fee, with no penalties. If you paid by check, your refund will come by U.S. mail.
If you gave extra to assist the research and the education work of MSRW, please let us know at info@mackinacraptorwatch.org if you would like this refunded as well. Your gifts for the Student Scholarship and Education Fund will carry forward, but likewise – let us know if you want a refund.
Since MSRW has already invested money in the Fest as well as hundreds of hours of volunteer time, your donations would help at this time, at https://www.mackinacraptorwatch.org/organization-and-support/.
In good news, we are exploring the possibility of re-scheduling the Fest this fall to enjoy the hawk and owl south-bound migration. If so, we'd love for you to attend then or in 2021.

Please cancel any hotel reservations you made on your own. OR come up then or another time to enjoy the hawk watch. Already, 52 Golden Eagles have been recorded by counter Kevin Georg. The birds are moving and you'll find plenty of "social distance" at the site behind the Recreation Complex in Mackinaw City. You can marvel as spectacular kettles form almost at head level, rise up, and then dissipate high overhead as the birds peel off to soar across the Straits. Besides directly experiencing this unique natural history experience, you can learn more about these birds, where they've been and where they are going, from newly-hired Raptor Naturalist Abigail Fischer.
Thank you for understanding the situation and for your interest in raptors. If you can devote a few hours of volunteer time either on the Fest or other MSRW committees, please email info@mackinacraptorwatch.org so we can match your interests with MSRW's needs.