In the past week, the main highlight would have to be the Long-tailed Ducks. On the 20th, 172 were counted. On the 21st, an amazing flight of 1,833 were counted. 18 of them flew east and all the rest were flying west. In just the 3rd counting hour alone, 845 flew by. It really was incredible to see single flocks of 100+ LTDU's many times over. Hopefully there will be another day or few that are similar to this during this fall season.
Several White-winged and a few Black Scoters have been added in the past few weeks too, as well as a decent number of Redheads. Also on the 20th there was 1 Red-throated & 3 Common Loons that flew by.
Despite the wind appearing to be very favorable for migration today, it was a very inactive day for waterbird migration at McGulpin point compared to most of the days this week. Likely the highlight today was a total of 3 Snow Buntings.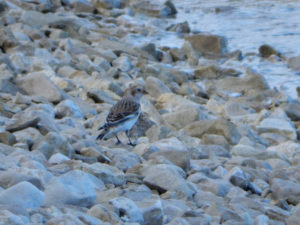 Another close up passerine was this White-breasted Nuthatch. It's nice to have some little birds keeping you company.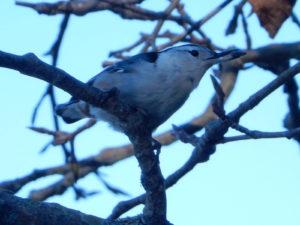 Below are the recent lists via eBird…