4/16: Decent morning count. Mild breeze out of the Southeast had things feeling almost springlike—despite the remaining foot or so of snow up against the cedars! A good array of species, but not that much apparent migratory movement. Six loons, a redhead pair, a male wood duck, and quite a few small flocks of white-winged scoters passed, but by the fourth hour nearly all movement was local, with a flock of 23-24 white-winged scoters giving me a counting headache by passing back and forth several times (fairly certain it was the same flock—conservatively counted as such).
Raptors, shorebirds, and passerines provided a bit more flavor, with two sharpies and 28 turkey vultures headed north, another great egret (headed North towards the colony on the Mackinac County shore, and greater yellowlegs (FOY) heard calling overhead as it made the journey across the straits. A local merlin was present, as well as about 30 redpolls, two flickers, and three more meadowlarks, though none of these appeared to make the journey across.
eBird list: https://ebird.org/view/checklist/S55018168
Trails End Bay was free of ice by evening, and hosted good numbers of common mergs (27) and buffleheads (54), as well as two great-blue herons. The highlight of the night came when I spotted two green-winged teal pairs (FOY for Emmet County, first since I saw a pair back in March at Cheboygan SP) loafing with some mallards at the marsh edge.
eBird list: https://ebird.org/view/checklist/S55037526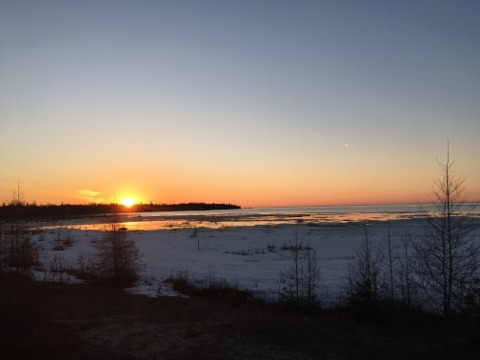 Woodcock are finally around in good numbers: not only was the local male peenting again at Trails End Bay, but on the way home I had one sky-dance over the car near Headlands Park, and two more peenting next to I-75. Hopefully lots more on the way!
4/17: Foggy morning had movement essentially down to zero, though there was a brief period around mid-morning where the sky cleared and activity picked up a little bit. Very few waterfowl in general, with only a Canada goose flock, five long-tails, and a mallard pair likely migrating (plus the usual local movements of mergs). Raptors appeared in good numbers during the brief clear spell, with two sharpies, a turkey vulture, and six red-tails kettling and flying East, a likely dark-morph rough-leg headed North just before, and a peregrine and another sharpie in earlier clear moments.
Finally got the Dunkadoo program working, so full hour-by-hour numbers for all counts thus far should be available!
eBird list: https://ebird.org/view/checklist/S55053185
The evening count again hosted large numbers of buffleheads, which appear to be using this bay as a staging ground. Max count at one time was 30 males, 29 females, but another 10 or 20 at least were probably in the area. Waterfowl life otherwise unremarkable, but had a good raptor evening, with five harriers (3f2m), two osprey, and three turkey vultures headed East. All three female harriers flew close to shore, even over the remaining ice, while the males flew further out and beelined for the Headlands. Both osprey paused to hover during their flight, and a third was seen hovering earlier but not tracked for a flight direction (though it likely went East). Two more tree swallows, this time flying East.
The local balds were terrorizing the ducks as usual, with a 1cy, a 2cy, and an adult all seen several times. At one point the adult was carrying several strands of plant matter off to the West towards Cecil Bay—likely nest lining.
By 7:00 the rain had begun, and I called the count at 7:25 once it started coming down more heavily, as the birds had essentially stopped moving around, and most were hunkered or feeding within a small area.
eBird list: https://ebird.org/view/checklist/S55071953