As we have now entered October some species have become more common now and others seem to have tapered off. White-winged Scoters are now found almost daily and Horned Grebes are now pretty regular. Scaup numbers have also gone up recently. As far as passerines go, American Pipits now roam the beach daily and will often come in close for great looks.
October 2nd was the best raptor day of the season from the McGulpin side with over 700 individual raptors counted including a light morph Rough-legged Hawk. On the same day the Sandhill Crane total was 1005 from McGulpin.
Some pictures from the past few weeks…
Turkey Vultures in flight in late September.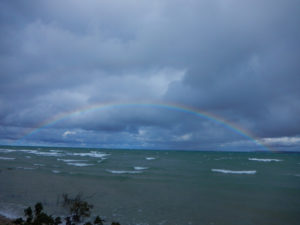 A morning rainbow on 9/26
Common Tern on 9/29
One of several American Pipits that have been seen lately.
Complete eBird lists are below.