Snowfall throughout the night last night welcomed us into November with a couple inches of wet snow clinging to everything when I started the count this morning. Light south winds meant that despite the colder temperatures it wasn't too uncomfortable on the beach, which made it nice for the many visitors to the count today.
Leonard, Bev and Jack, and Carol all stopped by to enjoy the Harlequin (who was back again today!), and the winter ducks that are coming through in good numbers now.
Buffleheads, Long-tails, and Goldeneyes were all around in good numbers again today. A flock of 50 Snow Geese flew south today as well, and interestingly ~40 of them were blue morph, which is the highest percentage of blue morphs I've ever seen in a flock.
Lots of dead things on the beach today as well, two of which were fish – one was a fresh common carp that had washed up this morning, which proceeded to get demolished by Herring Gulls throughout the day. The other was a large salmon? But was much farther gone. There was also a dead White-winged Scoter washed up on the beach, which looked to be a few days old.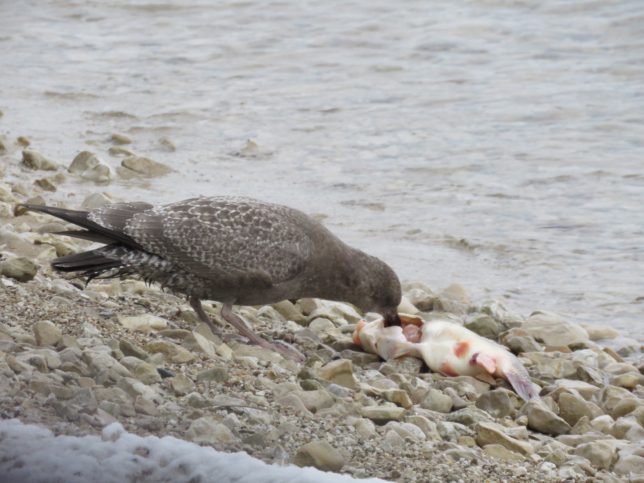 Snow Goose – 50
Mute Swan – 2
Mallard – 1
Harlequin Duck – 1
Surf Scoter – 1
White-winged Scoter – 10
Scoter sp. – 5
Long-tailed Duck – 104
Bufflehead – 371
Common Goldeneye – 42
Common Merganser – 24
Red-breasted Merganser – 73
Merganser sp. – 3
Duck sp. – 217
Common Loon – 1
Horned Grebe – 4
Red-necked Grebe – 1
Ring-billed Gull – 4
Herring Gull – 3
Other species:
Bald Eagle – 3
Downy Woodpecker – 1
American Crow – 4