Hi everyone,
I filled in for Aspen on Sunday to give her a day off. Sorry this post is coming a day late. The morning was extremely windy and overcast, which meant it was very dark. How dark? Well, consider that the following photo actually was taken in color and you can see how little light there was to work with while identifying birds.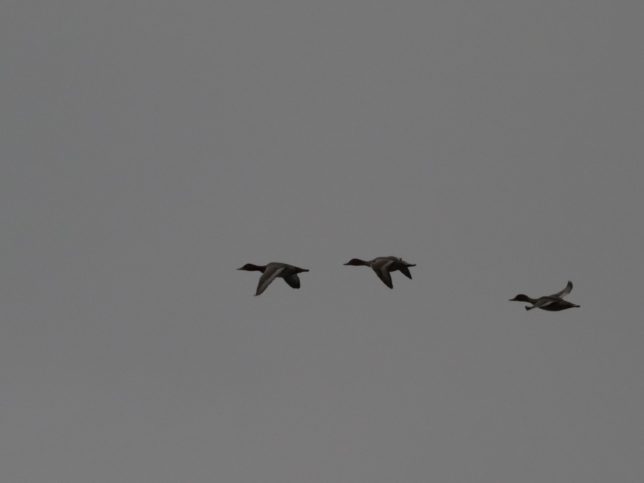 You may notice the relatively large head with a pinched-in skinny neck, a silvery stripe running the length of the wing, and overall lack of contrast. That is enough to identify these ducks as Redheads, despite the lack of color.
Despite the lack of light in the morning, there were quite a few birds on the move with the wing changing to the north-west. Red-necked Grebes were definitely the bird of the day. Here are a few shots of some of the flocks that were flying through the straits.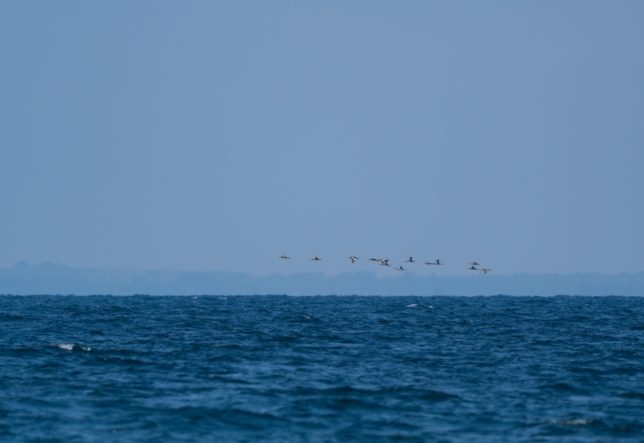 Many of the grebes that were flying around even stopped to sit on the water, although it was difficult to see them sitting in the waves.
And here is a flock of four Blue-winged Teal that kept jumping from one flying grebe flock to another for about five minutes. Not sure what they were up to.
The other birds that seemed to be moving in numbers today were Bald Eagles. Here an adult and an almost-adult that passed over the straits on their way south.
Just before the count ended, the only Canada Geese for the day flew along the lakeshore providing a little bit of entertainment in the slow afternoon (even though the weather had turned nice by then). My photos show that the lead goose kept an eye on me the entire time they were flying by.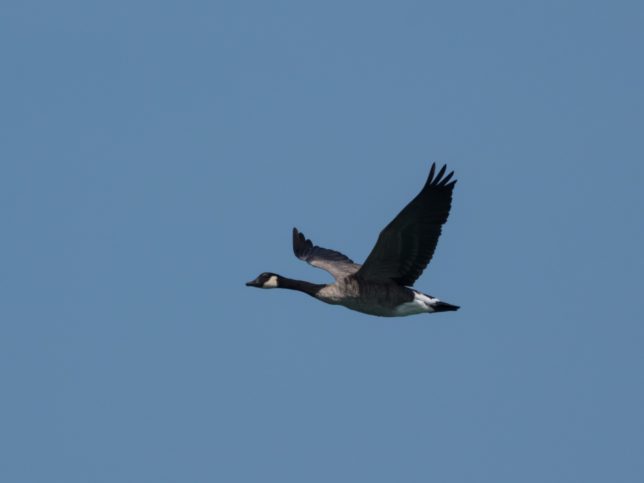 Throughout the season so far, there have been a few Hooded Mergansers hanging around and making occasional fly-bys throughout the day. This day was no exception.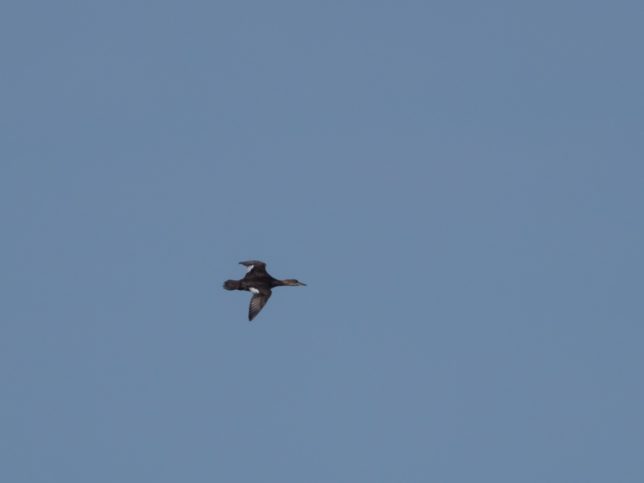 Anyway, Aspen is back to counting now, but I'll probably be filling in for her periodically throughout the season. I look forward to seeing what she will find. Here is a rundown of all the birds counted on Sunday.
| | |
| --- | --- |
| Bald Eagle | 15 |
| Black-capped Chickadee | 6 |
| Blue-winged Teal | 4 |
| Common Loon | 14 |
| Common Merganser | 33 |
| Double-crested Cormorant | 107 |
| duck sp. | 6 |
| Green-winged Teal | 4 |
| gull sp. | 5 |
| Herring Gull | 19 |
| Hooded Merganser | 3 |
| Long-tailed Duck | 4 |
| passerine sp. | 2 |
| Red-necked Grebe | 377 |
| Red-throated Loon | 1 |
| Redhead | 13 |
| Ring-billed Gull | 33 |
| Canada Goose | 8 |
| White-winged Scoter | 1 |
| Turkey Vulture | 1 |
| Ruby-throated Hummingbird | 1 |
| Merlin | 1 |
| American Crow | 1 |
| Monarch Butterfly | 2 |