Greetings once again fellow raptor enthusiasts! Welcome back to another update for the spring owl banding blog. The saw-whet owl migration is starting to pick back up in Cheboygan State Park!
When we opened the nets on the night of the 20th we were hoping to avoid another night of empty nets and we were not disappointed. We caught 3 saw-whets throughout the course of the night, but that wasn't all we caught! On our final net check at dawn we walked up to our furthest set of nets and accidentally flushed a woodcock into the net! It was quite a surprise to have something other than an owl in the nets, but still a very cool experience.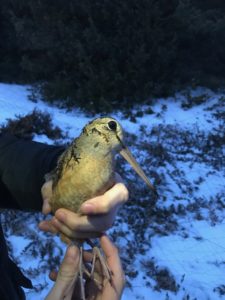 Last night (21st) was even busier than the previous night with 12 saw-whets captured. This puts our total owl count at 103! To commemorate the event we snapped a picture of our 100th owl, a third-year (TY) female.
We often get asked if we catch owls that have already been banded elsewhere and the answer is yes! Although it is much more likely to catch an unbanded owl, we do catch some owls that already have bands. We call these owls "foreign retraps" which means that the owl was banded at a different banding station or was banded by MSRW in a previous year. It is important to collect data on every owl that we catch and band. However, it is equally, if not more, important to collect data on these foreign retrapped owls because it allows us to learn a great deal of information about them. We can learn where the owl was originally banded and how long ago it was banded. This gives us an idea of how far the owl traveled and where it traveled to. It can also gives us a confirmation of how old the owl is. For example, earlier this season we caught a saw-whet that was previously banded as a hatch year (the owl was in its first year of life) by the MSRW owl banders in 2014. This means that the owl is now 5 years old! How cool is that?! There are many different things that we can learn from these owls which is why it is very important that we continue to do this research every year.
This spring alone we have caught foreign retraps from the following locations:
Cedar Grove Hawk Research Station near Sheboygan, Wisconsin
Point La Barbe, Michigan (Fall MSRW owl banding location)
Whitefish Point Bird Observatory near Paradise, Michigan in the Upper Peninsula
Thanks for checking in and be sure to come back for more updates regarding the spring owl banding as well as updates from the hawk and waterbird counts!
-Matthew
Total:
Northern saw-whet owls-103