Greetings once again raptor enthusiasts! Welcome back for another spring owl banding update. The saw-whet migration has slowed down a bit the past few nights. The weather has been pleasant lately, with temperatures dropping to only about 30 degrees at night with mainly clear skies and little to no wind. We have a bright waxing moon currently leading up to a full moon in a few nights.
On the night of the 22nd we caught 8 saw-whets, but we had another surprise waiting in one of the nets as we were closing up in the morning. A sharp-shinned hawk found its way into the net as dawn broke! We observed 2 other sharp-shinned hawks fly over a nearby net prior to us finding the third caught at the next net location.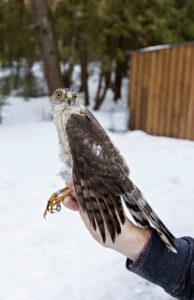 This is a second year female sharp-shinned hawk. Hawks in the genus Accipiter display a drastic, but beautiful change in the color of their iris as they age. They start off with a bright yellow iris, which turns to orange and finally a deep red. It was certainly a treat for us to capture, band and photograph this amazing bird before releasing her to continue her migration.
On the night of the 23rd we caught another 5 saw-whets, with no other surprise guests in the nets. On the 24th our nets remained empty and we had to close two hours early due to some rain moving into the area. Last night (25th) we captured 1 more saw-whet which brings our total for the season up to 117 saw-whet owls banded.
As I mentioned in my previous post we capture owls that were previously banded at a different banding station or by the MSRW in a previous year. We also have owls that we banded earlier the same night or banded on a previous night fly into the nets as well. We refer to these owls simply as "recaptures" and they are not counted with our total number of owls as they were counted when we first banded them. This happen more often than capturing the "foreign retraps" I talked about in my previous post. A few nights ago we had one saw-whet fly back into the net 6 more times after being banded! These instances of owls returning to the nets demonstrates that using mist nets is a safe way to capture birds without causing them any undue stress that would be detrimental to their health. As always, the safety of the birds is our top priority!
Thanks for checking in and be sure to stop back often for more owl banding updates as well as updates from the hawk and waterbird counts!
-Matthew
Total:
Northern saw-whet owls-117