The first half of October has continued to be plagued by bad weather for hawk migration. On the 9th there was heavy fog till noon. On the 10th there was heavy fog throughout the day and rain in the afternoon. On the 11th there were steady 25 mph SW winds, frequently gusting to 35 mph, all day long. On the 12th there was sleet throughout the day transitioning into rain late. On the 12th and to start the 13th it has looked (and felt!) much more like November than October. Temperatures have been around 10 degrees cooler than normal for this time of year. Despite the weather, there have been some signs that birds are wanting to move, and the 12th-13th probably had what would be raptors in average numbers for Pt. LaBarbe at this date.
There's not much to speak of from the 9th through the 11th apart from a nice pulse of Sharp-shinned Hawks on the 9th. A total of 126 pushed through in just a few hours after the fog lifted.
The 12th and the 13th have been incredibly similar to one another, with the addition of a few more species on the 13th. A total of 369 raptors were tallied on the 12th, and 361 raptors were tallied on the 13th. The breakdown of these two days' species totals are side-by-side below, with the 12th first and the 13th second.
Turkey Vulture: 216, 202
Bald Eagle: 5, 6
Northern Harrier: 4, 5
Sharp-shinned Hawk: 56, 33
Cooper's Hawk: 3, 1
Northern Goshawk: 0, 1
Red-shouldered Hawk: 8, 8
Broad-winged Hawk: 4, 0
Red-tailed Hawk: 65, 99
American Kestrel: 2, 1
Merlin: 0, 1
Peregrine Falcon: 1, 1
Apart from some Turkey Vultures crossing early this morning, it was a surprisingly dead day. It was a darker overcast day than normal, but no wind seemed like decent conditions.
Turkey Vultures and Red-tailed Hawks have remained consistent the past two days and in numbers probably close to normal for the time of year. Sharp-shinned Hawks have tailed off, suggesting their triple digit days may now be over. The pick up in Red-shouldered Hawks has been nice to see, as was the prolonged look at an adult Northern Goshawk yesterday.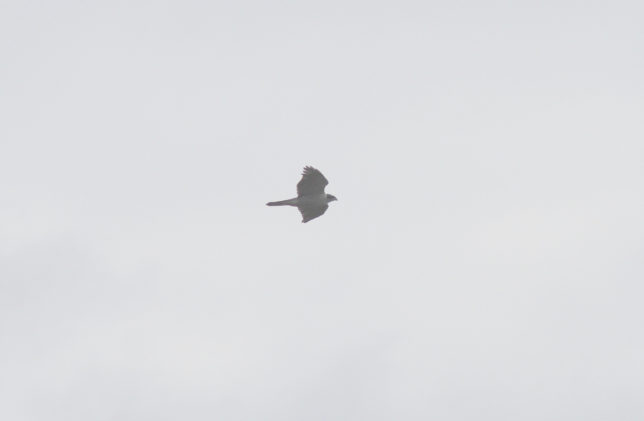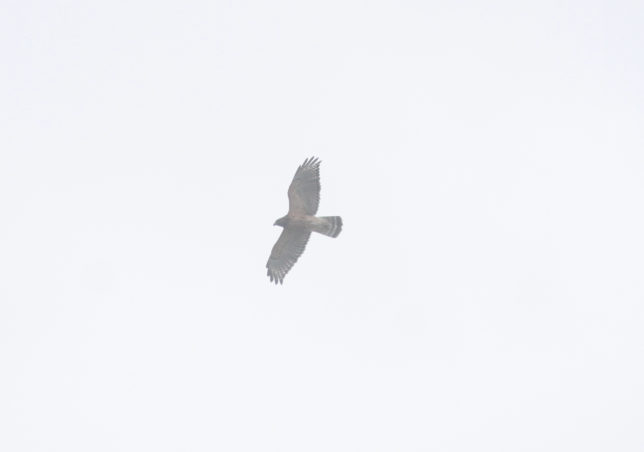 Non-raptors have been comprised of many of the same as the past few weeks. There has been an increase in diversity and numbers of waterfowl streaming past. Two-hundred Sandhill Cranes on the 12th was nice and pushed us over 3,000 for the season. Eleven Snow Geese (including 7 blue morph) flew by on the 13th. Large numbers of American Crows having been crossing, with nearly 1,500 in the past three days. Blue Jays have been moving in good numbers again and their season total is nearly 5,000 now.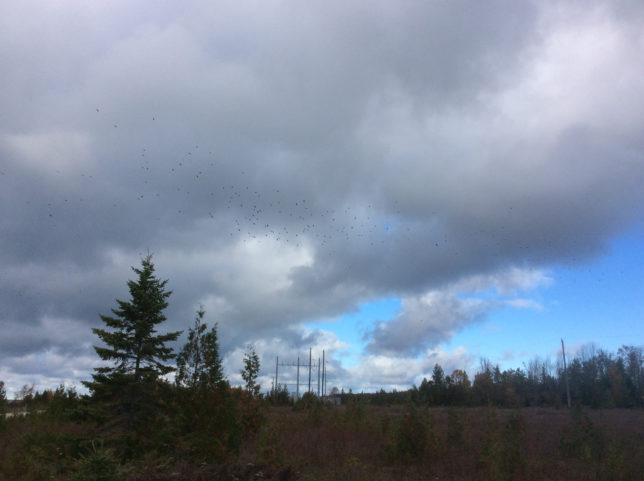 The near future continues to look bleak for raptor migration. Rain, snow, and many really windy days are all forecast for the upcoming week. When this poor weather finally ends it may really bust open though, particularly with Turkey Vultures, Red-tailed Hawks, and, if the weather is favorable sooner rather than later, Sharp-shinned Hawks.