On the night of the 13th, our fellow owl banding neighbors from Whitefish Point Bird Observatory, Ceeanna and Tori, joined Ed and me for an evening around the fire. As has been the trend this week, it was super windy; yet, throughout the night, the nets yielded 6 unbanded saw whet owls. Half of these were birds hatched this year, so hip hip hooray for babies moving out on their first migration!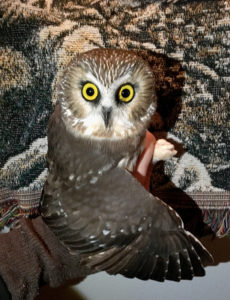 And then the night of the 14th came! I was so stoked to meet some new birds, send them on their way equipped with a unique band — wee fluffy stewards of migration science! But then???!!!! Rain. I didn't set the nets this night.
It was clear earlier in the day that I wouldn't be able to operate the station, so I instead spent the extra free time visiting my peers at Whitefish Point Bird Observatory. The Point itself is a fun spot and totally brimming with birders pursuing birds in defiance of the blustery conditions.
Speaking of, our most recent recaptured bird (see previous blog post) was banded at Whitefish Point last spring. Another saw whet showing migration route fidelity to the Straits.
Last night I tried opening again even though the winds were going crazy and making the nets flap like Marilyn Monroe's famous flying skirt… somehow I caught 2 second year female saw whets, before closing early at 5 am. The winds had shifted to the southwest, straight into my trio of nets and it was just a ridiculous wind tunnel.
I would like to conclude this post with a piece of special artwork (via photo reference) submitted by my friend Alma Schrage, who is currently part of the raptor banding project at the Cape May Bird Observatory.
Prior to arriving in Michigan for this owl banding project, I monitored California spotted owls in the northern Sierra Nevada region. My supervisor and I banded this young spotted owl this spring with a standard US Fish and Wildlife lock-on band, as well as a color band to help us recognize her should we encounter her again next year in the field. Thanks Alma for the artwork! I can't deal with the excessive cuteness of the down poking out around her emerging facial disc.
Until next time,
–MH