Hello Again,
MSRW blog followers, Arthur and I would first like to apologize for not informing you as to what has been happening these last few weeks with owl banding. We have been busy with owl banding and diurnal raptor trapping.
One of our last blog post featured some amazing release videos but had failed to mention the owl activity that occurred during the last week of April, which brought Arthur and I some exciting stuff! First, between the nights of April 29 – 30 we caught two long-eared owls (Asio otus). Both were aged as Second year birds and each of them were recorded as unknown for their respective sexes. We were also excited to have two more recaptured Saw- whet owls. One of these birds came all the way from Brown County Indiana, which was our second bird of the season that came from this area. We aged and sexed it as a second year female, and it was banded last fall as a hatch year female. Thus Arthur and I were correct with both age and sex, but this is usually the case. Then a few nights later we had another recaptured Saw-whet this time a familiar bird that was banded by MSRW last fall at Point La Barb on the Upper Peninsula. This bird was originally banded as a hatch year female. We aged and sexed it as a second year female. God we're good, 2 for 2 or 100 % on our recap birds! The remainder of this week included some more Saw-whet captures but nothing out of the ordinary.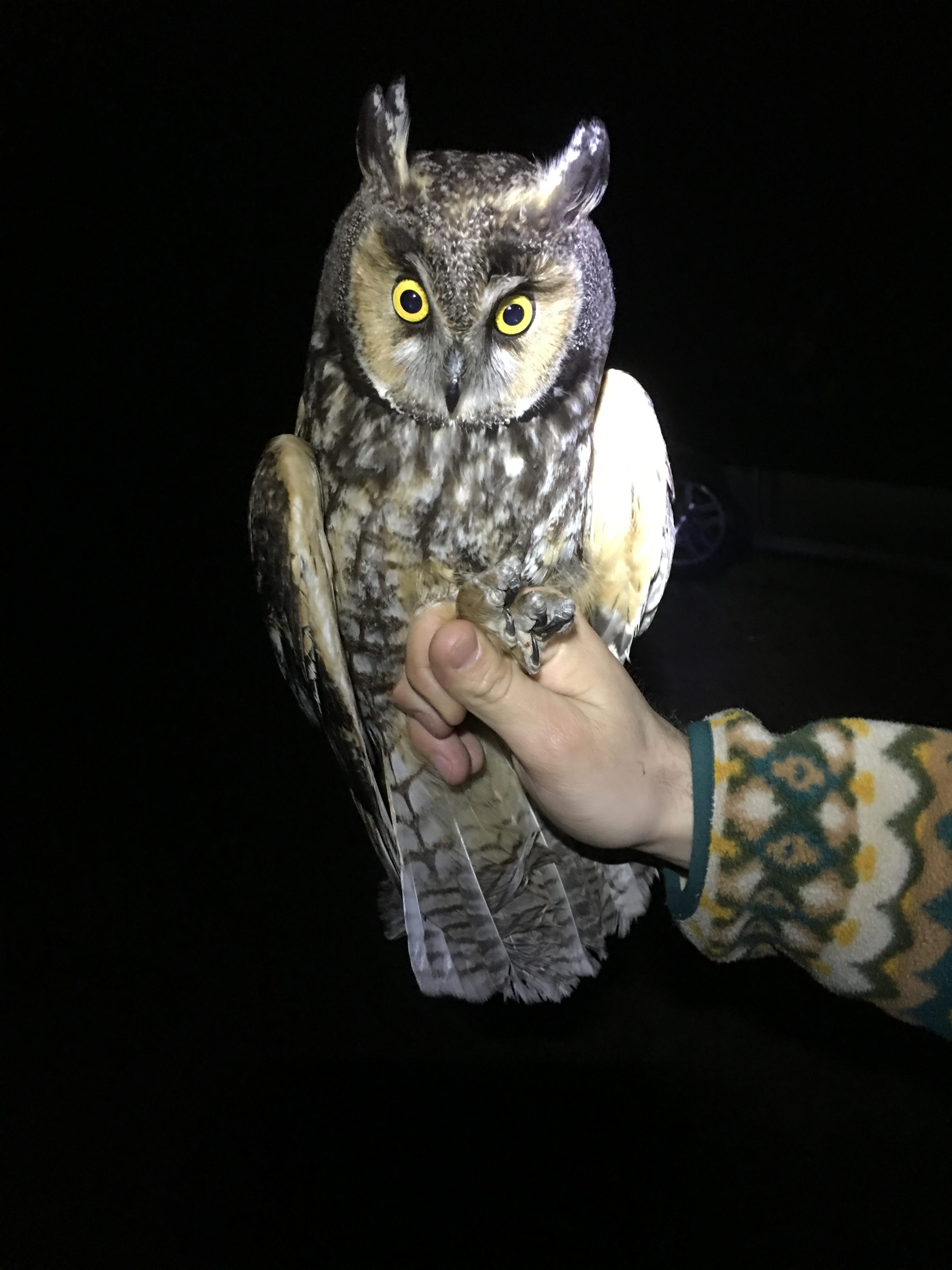 As we entered May, the main trend we saw was that owl migration was beginning to slow down as we were only averaging 1 to 2 owl captures a night, if we were lucky. From May 3 until our closing day which was May 15 we caught a grand total of 15 owls. 14 of these were Northern Saw – Whet Owls and thrown into the mix another Eastern Screech-owl (Megascops asio asio) which is the red morph sub-species. This was very cool, not only to catch our second Eastern Screech, but also that both individuals were the rufous morph, which is uncommon in Northern Michigan.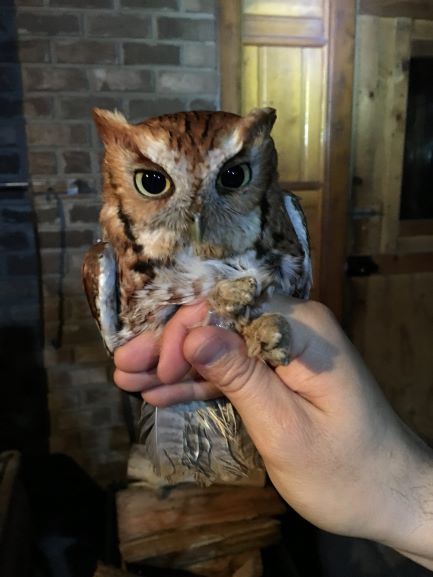 As the last week of Owl banded carried on we started having what seemed to be long nights but in actuality only felt long because of the absence of owls. Throughout this last week we even had a few nights with no owl captures. Then on May 10 at 11:00 p.m. we had a treat, we netted a recaptured Saw-whet owl, and like the other recaps, we were super curious to see where this bird had came from. It turned out this bird had flown all the way from Arrow Rock, Missouri and more specifically from Saline County, quite the flight for such a small owl only weighing 86 grams. In conclusion we closed nets for the last time this morning and it was bitter sweet. We have had a great season with an abundance of astonishing birds. We really enjoyed our time with the MSRW and we are sad that we must depart. We hope you enjoyed our blogs and until next time, good birding my friends!
Season Totals:
Northern Saw-whet owl – 164 – (157 newly banded), (7 Recaptured Northern Saw-Whet owls)
Long- Eared owl—5
Barred Owl- 4
Eastern screech owl- 2
Total Owl Captures- 175
Facial Characteristic Variation of Northern Saw-whet Owls
Photo credit: Arthur Sanchez