The weather has brought some mixed results this past week.
On October 5th and 6th, the station was paralyzed due to high winds. However, the following night a gentle west wind brought 22 owls, as well as the first barred owl of the season. Ed and I were very busy!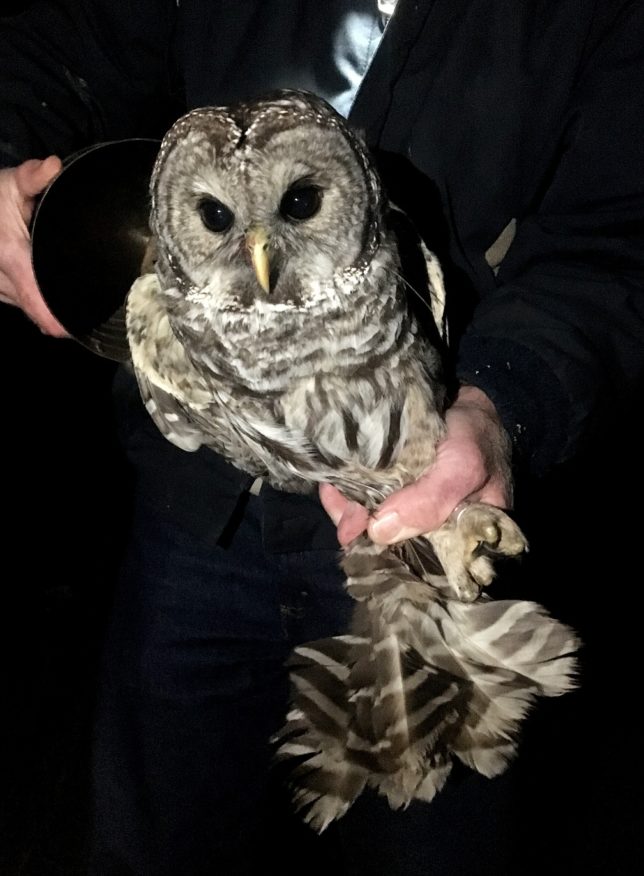 Since then it's been eerily slow, despite the aid of the new net array bringing in a few more owls. On Tuesday (Oct 8) we had six saw-whet owl visitors and another barred owl visitor to the station. Last night we encountered 9 more owls, but 6 of those were new; two of the others were banded a few days prior, and one was banded back in September! Most of the repeat birds had put on weight; evidently, they're unwilling to migrate and are opting to fuel up on prey. I suspect the low movement has something to do with unfavorable southeast winds and the incoming storms.
Tuesday night we had some extra human visitors to the station, Rob's cohort of students from Sault College. It's always a joy to share an upclose encounter of the secretive and highly nocturnal saw-whet with folks.
Thus far we have encountered 69 newly banded saw-whet owls and four foreign recoveries, owls which were originally banded outside of our fall station. Two of the birds were banded at Whitefish Point Bird Observatory back in 2017: one was a hatch-year then (she hatched in the spring of 2017) and the other was a second-year, so re-capturing them in fall 2019 has confirmed their ages to be about 2.5 years and 3.5 years, respectively. We're still waiting to hear back on the other recoveries.
Alas, the weather looks uncooperative for the foreseeable future. We'll see how it goes.
Until next time,

Maycee