The past week of running the station has been a far cry from the listless early season activity.

Last Wednesday (Oct 16), some stretches of road were badly flooded due to the recent storms. Fortunately the banding station didn't float away into the lake because it was quite a productive night for owls. I had 14 saw-whet owls and even a long-eared owl showed up. The long-eared owls have a tendency to appear when there's nobody around but me to appreciate their unique beauty… ah well.
On Thursday the point was swarming with owls. We caught 39! The station hasn't seen this much activity in a single night for a couple of years. Luckily we had help from some experienced folk who run a saw-whet station in Ohio, so the night went smoothly.
The weather was pretty good on Friday, too; we were able to host a bunch of people from our local Audubon Societies for their annual owl field trip. Unlike last fall, we had a good haul of owls to show before it got too late. Then the lack of owls triggered a mass exodus event and Ed and I were suddenly left to our lonesome. I was pretty tired but managed to stay awake through the night by feeding upon the donut holes left behind.
Thus far we've newly banded 178 saw-whet owls, and movement still seems to be going strong as we captured 19 owls Sunday night (Oct 20).
Ohhhh and about Sunday night – we had a special appearance by previous fall owl bander, Selena Creed. I've been getting majorly spoiled by all these cool visitors.
I'll wrap up this post with a lovely piece by Sid Morkert. He is a frequent visitor to the owl and hawk counting stations and a big fan of the wee owls.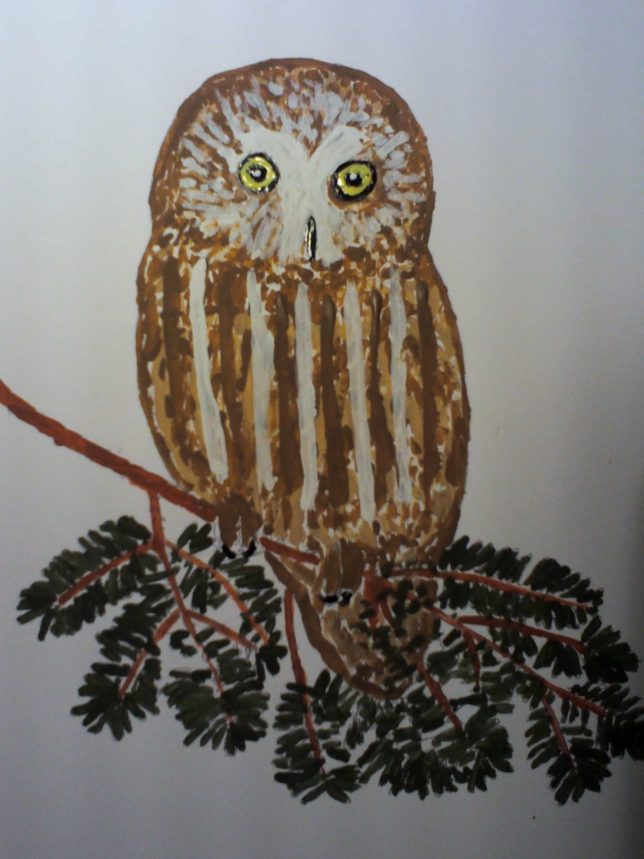 Until next time,

Maycee