Since my first blog post regarding the work we have started with the Snowy owls we have more exciting news for you fine folks on what we have been up to. We have continued to count and trap at our various sites and to our avail have managed to catch two more owls. This time two adult females, one was aged to be in at least its 4th year of life based on its flight feathers, while the other was already banded!
Now one of the reasons we band birds is in the hopes that other researchers and banders will recover our birds to help fill in the gaps of where these birds were and where they move to and potentially to see how migration paths may change over time. It is pretty uncommon to catch what we refer to as a "foreign bird" which means it was banded in a different area other our study site. Since there is only a small fraction of birds banded each year in terms of how many birds make up that particular species' whole population it's super exciting to catch one of the few that have been banded.
   The story of the second Snowy captured goes like this; she was originally captured at the Detroit metro airport. We don't have any information yet in regards to when this bird was banded and if an age and sex were given to her at the time of capture. We then know she was relocated and released at the Rose Lake Research Station near Lansing on January 4th, 2014. Now just based on this alone this bird is at least 6 years old! She could potentially be older though but we await more information. This is cool to think about how many trips this bird has made to the arctic and back and how many "air miles" she has accumulated. It makes me think that she probably has put more miles in flying the last six years then I have put miles on my car, pretty crazy to think about. We wish her the best on her migration back north and hope she will make the trip to Michigan for many winters to come. Snowy monitoring is almost nearing its end for this winter but if we have any more news, I will be sure to inform all of my and MSRW fans and followers. In the meantime, stay tuned for posts as we begin our spring project of capturing diurnal raptors in Mackinaw. As always stay classy,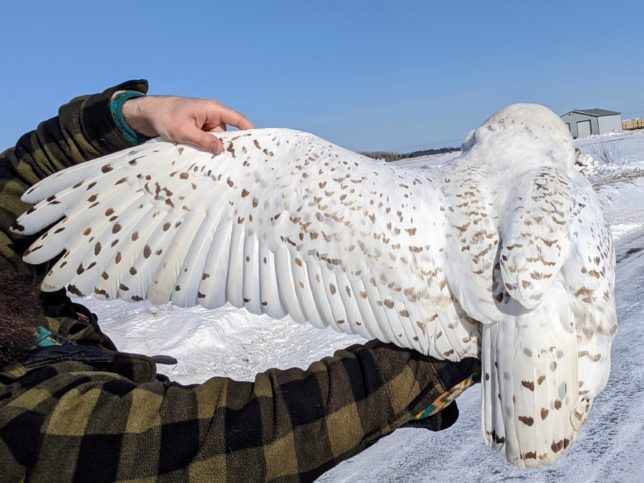 Nick Alioto
Winter Snowy owl banding totals:
5 – SNOW (2 Males & 3 Female)
1 Female was a Foreign Recapture from 2014 (Captured at Detroit Metro Airport) released in Lansing.