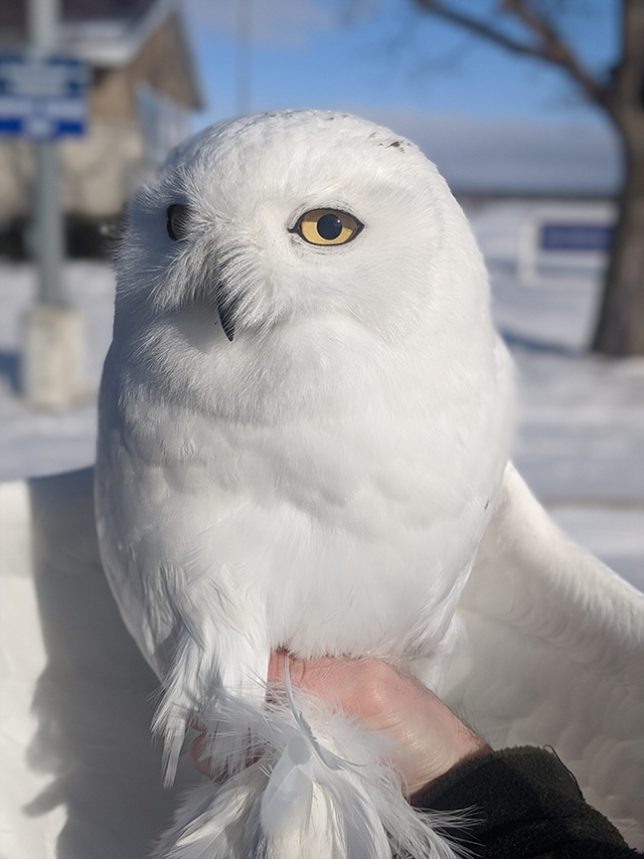 Greetings once again fellow supporters and followers of MSRW. Some of you may remember me from such field seasons that include the 2017 spring/fall owl banding and from the spring 2019 banding season. For those of you who don't know me my name is Nick Alioto. I am a biologist, and some might even say "ornithologist" that has been doing many bird related jobs over the last few years. This has allowed me to travel all over this beautiful continent. Once again, l have returned to this particular area of the country to take part in some new projects associated with MSRW. They just can't seem to keep me away!
This winter I came back so that we could start a pilot project to monitor the Snowy owls that over winter here in Northern Michigan. As many of you know these owls migrate down from their breeding grounds in the Arctic and many spend their winter in various locations throughout Northern Michigan. Also, it should be noted this is one species of owl that is easily recognizable and well known among even many non-bird enthusiasts. Now, one of the components to this study was to monitor these birds at various spots throughout the winter to see how numbers fluctuate throughout the winter months. The second part is to attempt to catch and band some owls. The latter part being the more exciting part of this project, at least for me!
Now let's talk about how you catch these birds. As you can imagine it is not the easiest task. These birds are all very different in terms of their behavior. To give you fine folks an estimate of how difficult it can be to catch these birds let me explain. We roughly began to monitor these birds in mid-January. It was not for lack of effort but our first captured bird finally occurred on February 8th. Might I add that this involved many trips to various locations where either a bird was not interested in what we had to offer or by some stroke of luck we would get a bird to come in to our trap only to have It escape once we got close to getting our hands on the bird. Despite all the failures in the beginning, it was great to learn more about these birds behaviors through a lot of observation and trial and error.
After reaching out to get advice from other various Snowy owl banders and researchers, we now stand at a total of 3 newly banded Snowy owls. Two stunning adult males and one adult female. Needless to say, we are very excited to have caught this many so far and hopefully will capture a few more before these nomadic birds move even further north and disappear for another year. We will continue to monitor these birds until the end of March. Stay tuned for more exciting news from the Snowy owl project and MSRW. Until next time stay classy folks.
Nick Alioto
Winter Snowy owl banding totals:
3 – SNOW (2 Males & 1 Female)