This spring, the Mackinac Straits Raptor Watch's owl-banding station is at a new location. It is at the Historic Mill Creek Discovery Park, about 3 miles southeast of Mackinaw City on Highway 23. Unlike the previous spring station location (Cheboygan State Park) or the fall station location (Pt. LaBarbe), this site is a bit away from the lake – about ¼ mile. But it has great habitat for migrating (and breeding) birds. The park itself is a mixed hardwood (oak, maple, birch, aspen, alder, etc.) – white pine – spruce – balsalm fir forest. The uplands are mostly hardwood, while the lower areas are mixed with an understory of young spruce, fir, and red cedar. It is these lowlands that are perfect habitat for Northern Saw-whet Owls and this is where the banding station is located. The diminutive saw-whet prefers denser understory within which it can hide from predators or sit and wait for prey. As you can see from the photos, the understory near our nets is plenty thick.
At the banding station area, we have set up three nets in a triangle configuration around an audiolure – a game-caller that broadcasts the territorial call of a saw-whet. We expect that these nets will catch the majority of saw-whets because the sound of the territorial call is thought to attract owls that are passing by. In addition, we have placed several mist nets along old trails through the forest. These nets either run parallel to or cross the trails to catch any owls cruising along these corridors. These nets are within earshot of the audiolure and function to catch birds that are randomly flying through or don't want to approach the audiolure too closely.
Because no one has ever tried to catch owls at this location, MSRW's Ed Pike and park staff weren't sure how the season would go or whether we would catch any owls. So, how has the season gone so far? Fantastic! After 10 nights, we have already caught 56 saw-whets and a Barred Owl. That is an excellent start for any location. Looks like Ed and friends know good owl migration habitat when they see it!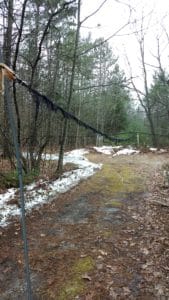 We would like to give special thanks to state park staff who not only have been very supportive of our efforts but have provided living space and hospitality to the banders. Steve Brisson (Mackinac State Parks director) and Rob Strittmatter (Mill Creek Park manager) discussed and approved the project and research area. Troy Allair (Mill Creek park ranger) helped clear net lanes and is providing logistical and moral support. MSRW Board Members Ed Pike, Jeff Dykehouse and Russ Edmonds scoped out potential net sites, cleared net lanes, and set up the trailer and other logistics.
Season Totals (March 15 through March 26):
Northern Saw-whet Owl: 56 (52 new, 4 recaptures)
Barred Owl: 1