Since my last blog post there is a lot more exciting news to share with all you fine folks as our Snowy owl winter season pushes on here in Northern Michigan. As I mentioned before in my last post there is exciting news about some Snowy owls that we have recaptured so far this season.
Lets jump right in! Our second recapture occurred on January 5th. This bird was an adult male that was captured at the local Cheboygan airport. What was amazing is that some of you may or may not remember that our first bird last season was also an adult male that was caught at the Cheboygan airport. It turns out that this was the same lad from a year ago! He was captured approximately 200m from his original location this year. After capturing him we took all his measurements and assessed his body condition, and he was in great shape! It was also great to see a comparison in the plumage from one year to the next. Seeing known age recaptures can help us scientists to better understand how adult owls replace their feathers as they age and can help us to be more accurate when assigning an age to them. Right now, we know that this male is at least in his 5th year of life which is quite exciting if you ask me! The other interesting thing I thought about this male is that we know he must have returned North somewhere in the Arctic this past Summer and potentially could have bred and raised a family before returning South to his winter home here in Cheboygan. Last year after monitoring him all winter it seemed he made his departure around mid-April so it will be interesting to see how long he sticks around for this winter.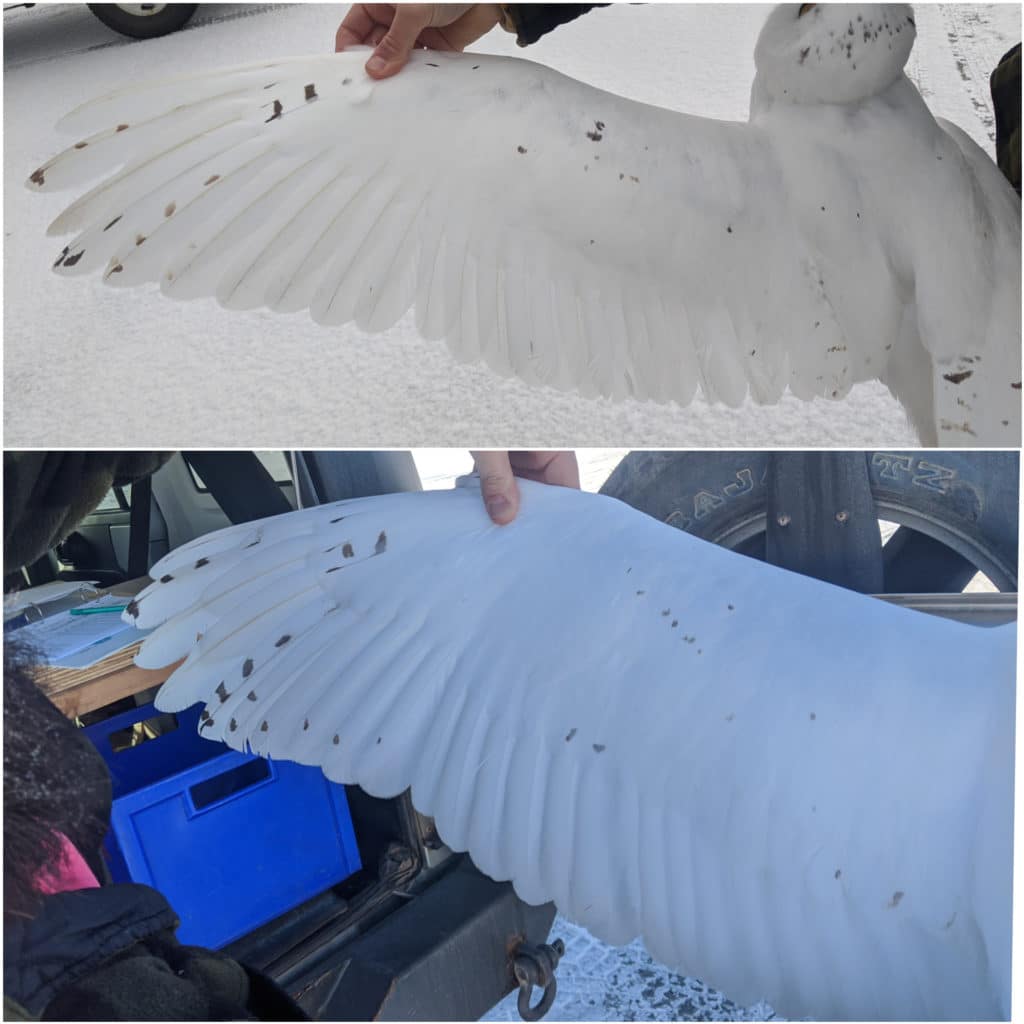 Our third recapture of the season was yet another foreign recapture (meaning a bird that was originally banded somewhere else) which occurred on January 16th. As I get more information on that bird, I will write another update to tell the story of that Snowy owl as well. All I can say is that she is an old female that has been seen in various places. The other capture that we have added since the last update was a young female on January 13th. It was great to get another young bird as we were hoping some more would show up into our sites. On that same day we counted a second young female nearby. Hopefully a good sign of things to come. Overall though the total numbers of owls seem to still be quite low. We haven't noticed a huge influx of new birds but rather seem to be seeing the same birds we have already captured sticking around and potentially settling in. Then again that is hard to confirm without having transmitters on these birds so that we can consistently know their whereabouts.
Stay tuned for our next blog post where we will explore the other tale of our foreign recapture, and as I promised I will try to give tips and tricks for discerning the differences between male and female Snowy owls in the field. Until next time, as always stay classy folks!
Season Totals:
7 – SNOW Total
4 – Newly banded
3 – Recaptures