Hi everyone,
I filled in for Aspen again today. The morning was more productive than I have seen yet this fall. Most of the early morning consisted of counting Redheads and White-winged Scoters. Here are a few of the former.
The highlight of the morning came when a group of Canada Geese came over with a blue-morph Snow Goose. Although the picture is not great, here it is.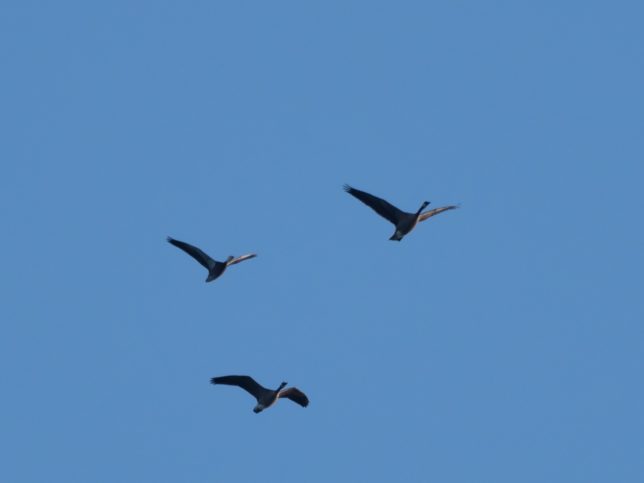 The loon numbers were very low today, with only two Common Loons and three Red-throated Loons.
After the first two and a half hours had a decent amount of activity, the waterbird movement just sort of died. The next two hours were pretty slow until the raptors started moving.
Red-tailed Hawks, Turkey Vultures and Sharp-shinned Hawks all came south in good numbers. The real excitement came when a western subspecies (calurus) Red-tailed Hawk flew directly overhead.
I'll leave you with a few more photos from today, followed with a full list of birds counted. Thanks for reading!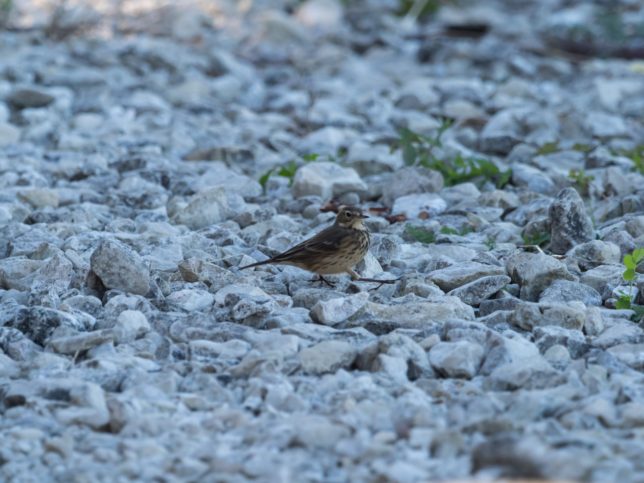 Snow Goose (Anser caerulescens) 1
Canada Goose (Branta canadensis) 73
goose sp. (Anser/Branta sp.) 15
Blue-winged Teal (Spatula discors) 1
Mallard (Anas platyrhynchos) 10
Green-winged Teal (Anas crecca) 1
Redhead (Aythya americana) 1137
Aythya sp. (Aythya sp.) 413
White-winged Scoter (Melanitta fusca) 63
scoter sp. (Melanitta sp.) 10
Common Merganser (Mergus merganser) 9
Red-breasted Merganser (Mergus serrator) 2
duck sp. (Anatinae sp.) 63
Red-throated Loon (Gavia stellata) 3
Common Loon (Gavia immer) 2
Red-necked Grebe (Podiceps grisegena) 17
Horned/Eared Grebe (Podiceps auritus/nigricollis) 1
Double-crested Cormorant (Phalacrocorax auritus) 17
Turkey Vulture (Cathartes aura) 57
Northern Harrier (Circus hudsonius) 2
Sharp-shinned Hawk (Accipiter striatus) 11
Bald Eagle (Haliaeetus leucocephalus) 7
Red-shouldered Hawk (Buteo lineatus) 2
Red-tailed Hawk (Buteo jamaicensis) 19
Red-tailed Hawk (calurus/alascensis) (Buteo jamaicensis calurus/alascensis) 1
Sandhill Crane (Antigone canadensis) 6
Ring-billed Gull (Larus delawarensis) 6
Herring Gull (Larus argentatus) 5
gull sp. (Larinae sp.) 100
Rock Pigeon (Feral Pigeon) (Columba livia (Feral Pigeon)) 1
Downy Woodpecker (Picoides pubescens) 1
American Kestrel (Falco sparverius) 1
Merlin (Falco columbarius) 1
Peregrine Falcon (Falco peregrinus) 2
falcon sp. (Falco sp.) 1
Philadelphia Vireo (Vireo philadelphicus) 1
Blue Jay (Cyanocitta cristata) 1
American Crow (Corvus brachyrhynchos) 4
Black-capped Chickadee (Poecile atricapillus) 7
Tufted Titmouse (Baeolophus bicolor) 1
Golden-crowned Kinglet (Regulus satrapa) 2
American Pipit (Anthus rubescens) 28
Northern Parula (Setophaga americana) 1
passerine sp. (Passeriformes sp.) 33