September 28
Friday night was a real treat. Members of local Straits Area and Petoskey Regional Audobon Societies visited the station for a banding demonstration. Much fun and good company was had around the fire, and best yet, we got to see and learn about three saw-whet owls! I hope everyone went home dreaming of golden eyes and fluffy feet.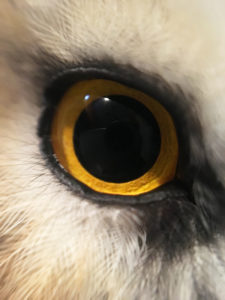 Some time after folk departed and left me to my lonesome, a barred owl flew into the farthest passive net (~200 m from the main saw-whet audio lure nets). I've worked with barred owls in the field before, but never had the honor of having one in hand. She was incredibly calm while I took measurements. Wonderfully, this bird was a recapture who (hoo) was banded at this site last year on October 10. She was aged as an ASY then, confirming she is an After Third Year (~3.5 years or more) now. I was happy to learn from Ed that she has put on a good amount of weight over the past year.
Could she be a migrant showing site fidelity to this particular migration route, or could she be a resident who overwinters on the Straits?
On the night of Saturday, the 29th, Ed joined me for part of the evening where we had the pleasure of meeting our first recapture, a saw-whet banded this spring in Cheboygan State Park. Based on her flight feather molt pattern then, she was aged to be two years old, and now she has embarked on her third migration to the south.
The night of the 30th, October's Eve, saw a season best of 9 birds. 7 of these were unbanded saw-whet individuals, but one was a foreign recapture (it was banded originally somewhere else) bearing a size 4 band of an antiquated series. This saw-whet was banded as a hatchyear bird in Hilliardton, Canada, and selected the Straits to be its migration route this year. How cool!
The first morning of October was started in a very special way with our first long-eared owl. At a glance it's quite easy to tell how old the bird is – there's still baby fluff sticking to his head! Did he fledge from the nest straight into my net? Maybe so. I'm very happy to have met this striking owl.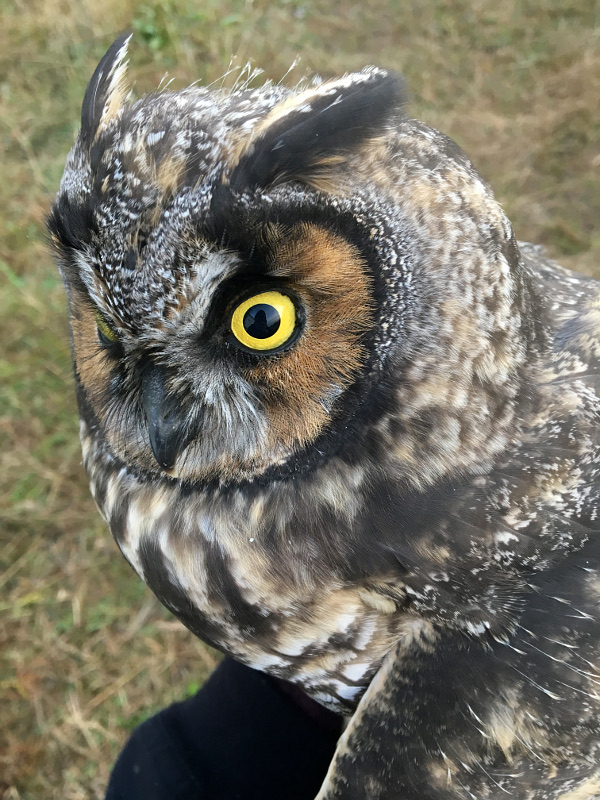 Until next time,
-MH